The Inn at Paradise has a total of 15 rooms. These are all private bedrooms each with their own private bathroom. Each one of our rooms features original artwork on consigment from local artists and craftsmen, your eye for style will be pleased. We also have suites available with fireplaces and kitchenettes. Our modest rates together with our facility make us one of Albuquerque's best values.

Rooms we offer:


The One Bedroom Apartment
has a living room area with fireplace and a kitchenette along with a breakfast bar. The bedroom area has 2 queen-sized beds. The bathroom has a large vanity area. This room is great for entertaining or hanging out with the family; great for longer stays.
The Regular Suite
is a more romantic setting with a
fireplace and hardwood floors. This suite is slightly more spacious than our regular rooms. This suite is great for a romantic weekend or just to relax and rejuvenate.
The Grand Suite
is a luxurious and romantic suite that has been recently renovated with hardwood floors and marble tiles. This suite incudes a living room with a fireplace and two bathrooms, one of
which has a Jacuzzi bathtub. The bedroom has a cherry wood four-post bed and dressers. It is a perfect honeymoon suite whether you are recently married and in the honeymoon stage, or if you want to celebrate your anniversary with the one you love.
Regular rooms

Each room has its own unique style and color scheme. There are several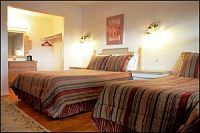 different bed options for you to choose from: King sized bed, Queen and Twin or Queen sized and futon.
"Bring your family and friends and start your morning with a breakfast at the Full Moon Saloon, featuring fruit, cereal, juice, coffee, tea or milk. Relax and enjoy the sunrise or head out for an early round of golf.
Breakfast
We serve an extended continental breakfast in the Full Moon Saloon. We serve waffles or pancakes, hot or cold cereal, pastries, bagels and toast, as well as fresh fruit and yogurt. To drink we offer fresh brewed coffee and assorted teas, hot chocolate, juices and milk.